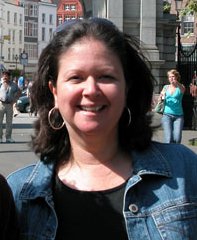 Myda Iamiceli was born and raised in Miami, Florida where she attended Florida International University and received a Bachelor of Business Administration in Marketing. After living in the New York tri-state area, she returned to Florida and received an Associate of Science in Graphic Design from Santa Fe College. In 2013, she received her Master of Fine Arts from the University of Florida where she studied graphic design.
Myda has many years experience in the graphic design industry designing annual reports, magazines, posters, brochures, newsletters, direct mail, advertisements and web sites.
Myda's research investigates the immigrant and second-generation American and concepts of identity, hybridity, adaptation, assimilation, memories and belonging. As designer-author and through visual storytelling, she hopes to gain understanding, cultural empathy and start a dialogue about identity and what it means to be American.
To contact Myda, please email her at mididesigns@yahoo.com.